Welcome to the Rouchka family website!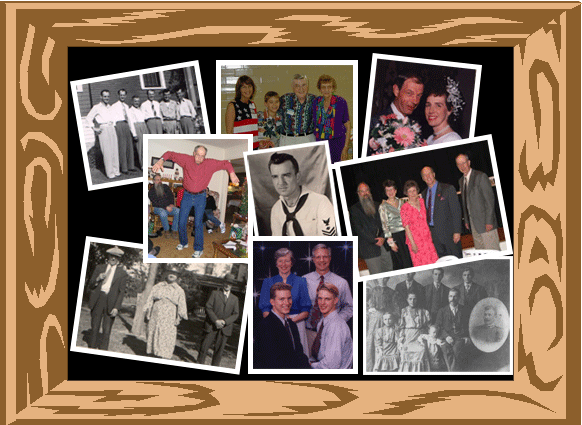 FAMILY REUNION TIME!
Greetings, fellow members of a large and far flung family.
We hope this letter finds you spared from a winter of storm damage, flooding, hurricanes, tornadoes and other unforeseen events. In a recent conversation with family members it was felt that family gatherings were a good thing and should be done again. That begs the question of how frequently. There are obvious reasons that infrequent gatherings would not be a good plan.... On a recent visit with Uncle Charlie in CA, after a thought provoking afternoon climbing throughout his backyard avocado tree (you can't beat guacamole with "Fat Tire" beer - ask Charlie), we settled down to discuss future travel plans. It turns out that Uncle Charlie planned to visit MO in May and we feel it's fitting and proper to plan an event at that time, especially since we planned to be in MO too. So, to continue our enjoyment of discovering family (last year we discovered Elvis), and sharing fun, food and entertainment, we've come up with a plan similar to last year's event. Meet/Greet: Let's try something to have fun and make the group feel like family. Each adult will introduce another adult, once they have been introduced themselves - using word, pictures, illustrations or any object that fits through the door. We'll do this until everyone has been included. Jerry volunteers to go first! Please pass the word: If you came last year and had a good time, pass the word on. There might be family members who we missed contacting or who had other plans. Reach out and suck them in, the more the merrier.
Event Data
Date/Time: Sunday, May 24, 2009 - 1:00 p.m. to 5/6 p.m.?
Place: Sacred Heart Parish Center, Sedalia, MO
Food/Drink: Two meat buffet with rolls, salads, vegetables, dessert and drinks (nonalcoholic)
Keg of suitable Czech brew
BYOB
Cost: Adults: $15/person
Teenagers $10/person
Children free

You may pay in advance or at the event, however, we will need a head count to plan for food. Also please select who your victim will be, aka, the person you wish to introduce. We will keep a list, so that everyone attending is covered. Let us know by mail, e-mail or phone.
Jerry & Betty Rouchka
UPDATES
Welcome to the newly updated web site.
Check out the new photo albums (link to the left) including 2008 Reunion.
Check out the Rouchka Picture News!
More changes coming soon. The old web site can be found HERE